Ok everyone! We are throwing a HUGE Halloween Party at work. I want you Iowans to come! Anyone else willing to travel, come too because it's going to be a blast. Some of my boys from SCARECORE of Des Moines is going to come since Scarecore is not happening this year, and I'm super pumped!
If you need directions, let me know! Seriously! It's going to be an awesome time.
Now today I took some pictures of a model who just happened to stop by and visit me today. She was certainly the best model I've had so far. She's a nudist, so all these pictures I'm presenting show her in nothing but her birthday suit.

Click here to go to the site to get the book



I'm so excited! YAY!




And for those of you who don't know or can't remember, my photos of the Black Angel are in this book. :), and if it weren't for
lostshady none of this would have been possible. I love you baby girl!
Okay people! Remember a while ago I said that some of my photos will be published in the upcoming book, "Weird Hauntings"..... Well the book is NOW out in stores! YAY! So go get yourself a copy! Do it NOW! lol
Here is the new 29 gallon tank

(
Click here to meet who lives inside
Collapse
)
So I said at the end of my last post that I would show pictures of my lovely fish. lol I'm a dork I know. But here are some pictures. I didn't take any pictures of my Guppies. I tried but none of them turned out. You can see a bit of them in the very first picture of the aquarium pics.

The past two mornings have been bad with Jacob because he doesn't want to go to school, so I have to fight with him just to get him on the bus. Of course he still goes, but it's the hour it takes to get him ready every morning just to go. lol

So as I sit here staring at my living room, I know I need to clean, then I definately have to tackle the kitchen. Add on the laundry and you have EXACTLY what I am doing today. Well, I do have to go into work tonight at 8:30 to bartend. So yeah. Exciting stuff isn't it?

Okies, so I'm off. Need to go and do something productive.
Alright, what do you do when your child doesn't want to go to school anymore because it's no longer fun?
I don't know how it happened. He wasn't sick. He was the same old big puppy he's always been last night. I took him out to go potty around midnight and we went to bed and he was just fine then.
My Mom is incredibly upset. He was her lifeline for so many years. He was so smart and loving and loyal. The best dog that I have ever had. A pain in my ass yes, but he was my baby.
Now I must go. I have to go get ready for work......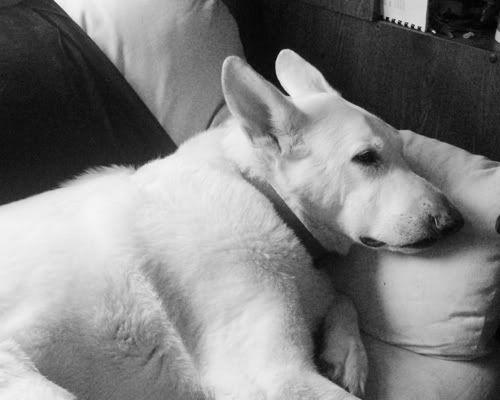 I woke up this morning to find that my white german shephard Kane had passed. He was 8 1/2 years old and has been in my life for that long. I just got back from my Mom's. We buried him there.
Ok people here is the deal. I'm not that picky on who I friend. My biggest rule is that you must be 18 or older. My second rule is that I don't want any bible thumpers on my friends list. Bad enough I have to hear them in real life. Don't want to deal with it in my own journal.
I post pictures *anything from G Rated to XX*, I rant, I talk about my KIDS, work, and everything that comes to mind. I bitch about stupid shit that doesn't make sense, and I'm just me. I live in Iowa so get over it if you don't like this state! lol